Here are two pieces that appeared in the same issue of the Guardian as my previous:
First, from Krista Burton, "My shopping habits help Amazon take over the world. Alexa, this ends now"
"... I also know Amazon's track record for labor practices is not good. I know the workers can't form unions to protect themselves. I know the average worker makes $13.68 an hour and that Amazon is one of the top 20 employers of people dependent on food stamps in several US states. I know the workers are worked until they're physically worn out; they sometimes can't even take bathroom breaks and still meet their productivity quotas. I know Amazon CEO Jeff Bezos makes $3,182 every second (that's $191,000 per minute) and that no one – no single person on this earth – should be allowed to be that rich. And what does he use it for? Humanitarian efforts? Eradicating childhood leukemia?
"The only way that I can see to deploy this much financial resource is by converting my Amazon winnings into space travel," Bezos has said.
Space.
Travel.
Amazon thrives and grows off the back of cheap, replaceable labor. And it continues to succeed, because oh my god, it's Tuesday at 6pm and I am exhausted and hungry and the last thing I want to do after work is go to the mall to buy a generic-yet-just-nice-enough Christmas present for the office Secret Santa exchange. ..."
And, Hannah Ellis-Petersen, "Facebook among firms named on Myanmar human rights 'dirty list': Forty-nine companies accused of human rights and environmental abuses"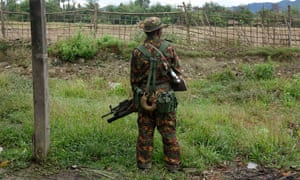 Facebook is among a number of companies from the US, UK, France, Switzerland and China named on a "dirty list" of corporations accused of involvement in human rights and environmental violations in Myanmar, or of doing business with the country's military, which is accused of genocide.
A list of 49 companies, compiled by the pressure group Burma Campaign UK, reveals the global breadth of international organisations that have continued to provide arms, infrastructure, technology, engineering and expertise to the Burmese military, or supported projects that have been accused of causing environmental destruction, such as hydroelectric dams and jade mines.
Burma Campaign UK said Facebook was on the "dirty list" because it had "consistently allowed its platform to be used to incite hatred and violence [against] minorities in Burma, in particular the Rohingya Muslim minority and Muslims in general".
Facebook has also come under fire elsewhere for allowing racially inflammatory and harmful content to proliferate on its platform unchecked for years.
A recent UN fact-finding mission on Myanmar specifically singled out the social media company as playing a role in further stoking ethnic tensions.
And in November, an independent report commissioned by Facebook concluded that, in Myanmar, "Facebook has become a means for those seeking to spread hate and cause harm, and posts have been linked to offline violence".
Burma Campaign UK acknowledged that Facebook had recently taken action to rectify abuse of social media in Myanmar, but in the "dirty list" accused it of not going far enough.
"It [Facebook] continues to host the page of the Information Committee, formerly State Counsellor Information Committee, which is run from Aung San Suu Kyi's office," it said, referring to Myanmar's leader, once an opposition figure backed by the west but now a pariah.