Jonathan Watts in Sharm El Sheikh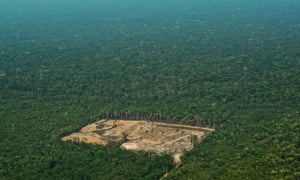 Indigenous groups in the Amazon have proposed the creation of the world's biggest protected area, a 200m-hectare sanctuary for people, wildlife and climate stability that would stretch across borders from the Andes to the Atlantic.
The plan, presented to the UN Conference on Biodiversity in Egypt on Wednesday, puts the alliance of Amazon communities in the middle of one of the world's most important environmental and political disputes.
Colombia previously outlined a similar triple-A (Andes, Amazon and Atlantic) protection project that it planned to put forward with the support of Ecuador at next month's climate talks. But the election of new rightwing leaders in Colombia and Brazil has thrown into doubt what would have been a major contribution by South American nations to reduce emissions.
"We have come from the forest and we worry about what is happening ," said Tuntiak Katan, the vice-president of Coica (Coordinator of the Indigenous Organisation of the Amazon River Basin). "This space is the world's last great sanctuary for biodiversity. It is there because we are there. Other places have been destroyed."
The organisation does not recognise national boundaries, which were put in place by colonial settlers and their descendants without the consent of indigenous people who have lived in the Amazon for millennia. Katan said the group was willing to talk to anyone who was ready to protect not just biodiversity but the territorial rights of forest communities.
Colombia's initial proposal was smaller and focused only on biodiversity and climate. But government enthusiasm has waned since an election in June in which the rightwing populist Iván Duque took power. Brazil was more sceptical but had previously engaged in ministerial-level talks on the corridor-plan. Its opposition is likely to grow under its new rightwing president, Jair Bolsonaro, who will take power in January.
Last month Bolsonaro indicated he would only stay in the Paris climate agreement if he had guarantees ensuring Brazilian sovereignty over indigenous land and the "triple A" region.
"136 million hectares of land and the Solimões and Amazon rivers would not be in our jurisdiction because they would be considered essential for the survival of humanity. So I ask you, with that Paris agreement, would we take the risk of giving up the Amazon?" he said at a press conference. [JBR Note: Bosonaro is feces wearing a human disguise]
This was seen by many as disingenuous because Brazilian sovereignty over the land has never been questioned by other countries, but it echoes a long-held – though unsupported – fear of the Brazilian right about the internationalisation of the world's biggest rainforest.
The indigenous leaders from Coica said they would press ahead with the plan regardless of the changing political situation. They are seeking government-level representation at the UN Convention on Biodiversity and want to ally with indigenous groups and NGOs in other countries.
But their political power is weak and many fear they may come under a more violent assault by agribusiness and miners encouraged by the government to move into their territory.
Katan said dialogue was the best way forward, but some communities were already preparing to defend their land with their lives. "We know the governments will try to go over our heads. We need a defensive strategy, a communications strategy. This is nothing new for us. We have faced challenges for hundreds of years."