Two areas of New York City that have recently gentrified have a corresponding high rate of quality-of-life complaints, which sometimes draw the police.
Ramon Hernandez has been sitting in a fold-up chair on his Harlem block every summer for decades. One recent evening, the 105-year-old had an evening dominoes game going with a couple of his neighbors as music played out of a nearby parked car. It's a tradition in the historically Latino neighborhood that has been largely undisturbed for decades.
That is until "the cops started coming about two years ago," said Edward Tineo, 42, one of the guys who plays dominoes with Hernandez.
The increased police presence "makes me feel bad. I've been living here for more than 40 years," said Hernandez through his granddaughter, who translated for him. He likes to sit outside to "get some fresh air."
What's changed?
A BuzzFeed News data analysis shows there has been a dramatic increase in 311 quality-of-life complaints on the block starting in 2015, the majority about noise. The uptick coincides with the neighborhood's gentrification, with more white people moving in, and homes getting more expensive. And while not every 311 call results in a visit from the cops, officers from the local precinct do respond when they're not handling emergencies.
None of the interactions between police and residents on this Harlem block, on West 136th Street between Broadway and Riverside Drive, have gone viral like #PermitPatty, who called police because a nonwhite girl was "illegally selling water." Or the black woman detained in California for not smiling at a white neighbor. Or the white woman who called police because black people were having a barbecue. Or the black firefighter who had the cops called on him while doing routine safety inspections in an upscale neighborhood.
But they do have something in common. These viral incidents, on a national scale, and what's happening locally on 136th Street show how people are quick to call authorities for harmless behavior by minorities. The resulting interactions can result in anything from a calm exchange to potential arrests.
These types of incidents — which have been going on for ages — are today exacerbated by how polarized people have become, especially as the president whips up racial tensions and many people tend to consume media that reinforces their own worldview.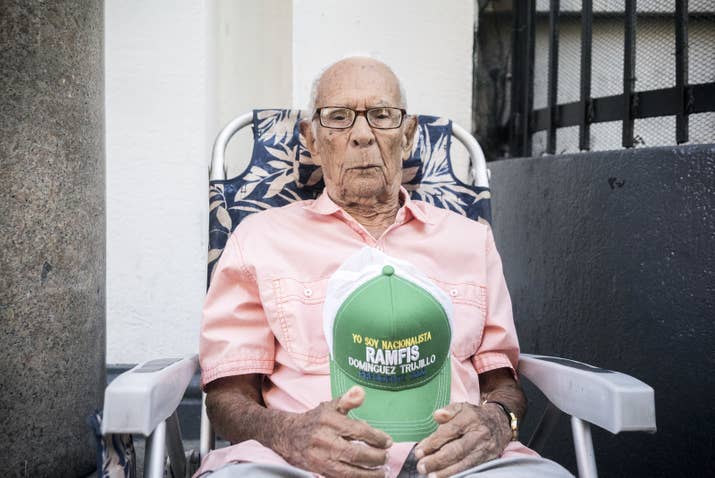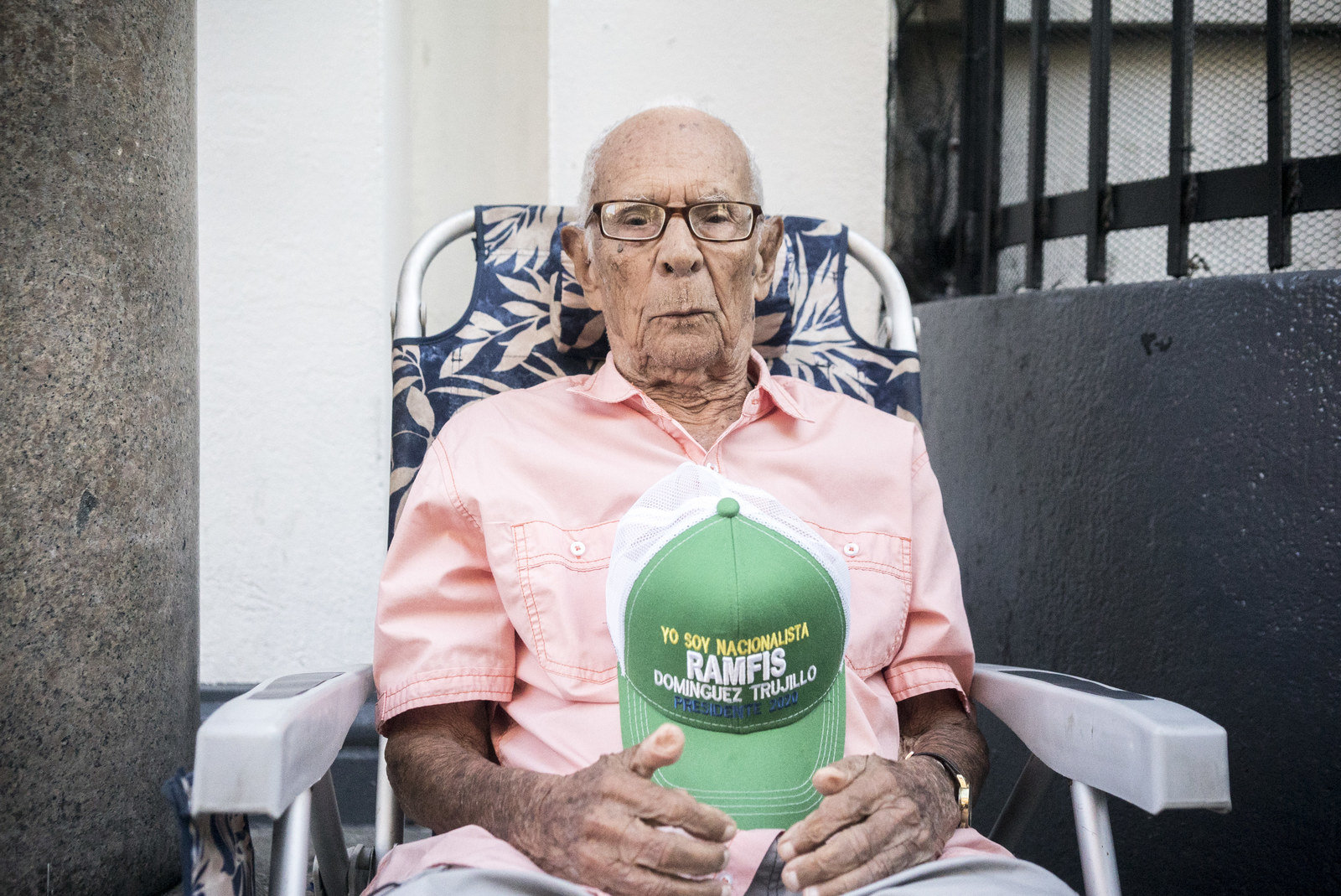 Between 2015 and 2017, the 311 hotline and app received about 3,000 quality-of-life complaints for Hernandez's block — a massive increase over the previous three years, when there were only approximately 130 complaints. (Not all complaints in the city's 311 database have clearly identified locations. Our full methodology [is] at the bottom of this piece.)
With the calls came the police. The 311 data shows the police responded to complaints on that block on 623 different days from 2015 through 2017 — more than half of the days during that three-year stretch. By comparison, police responded to these types of complaints on just 103 days between 2012 and 2014. Police responses include arriving at the scene and finding those responsible gone, taking action to fix the condition, and observing no evidence of the violation at that time.
[...] Complaints for the whole block rapidly increased starting in 2015, peaking on June 4 last year, when 100 complaints were submitted.
More than 1,000 of those 3,000 complaints referenced a particular address in the middle of the block — which is near where Tineo and Hernandez usually set up their little folding table.
The map below visualizes the number of complaints per address received from 2015 through 2o17, with the height of the bar representing the number of complaints: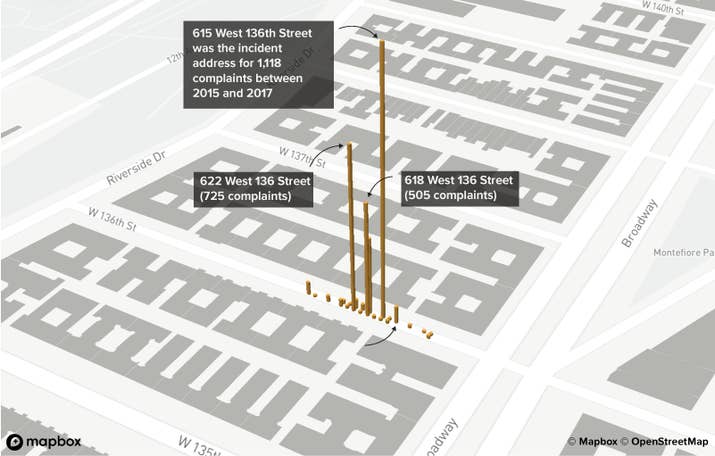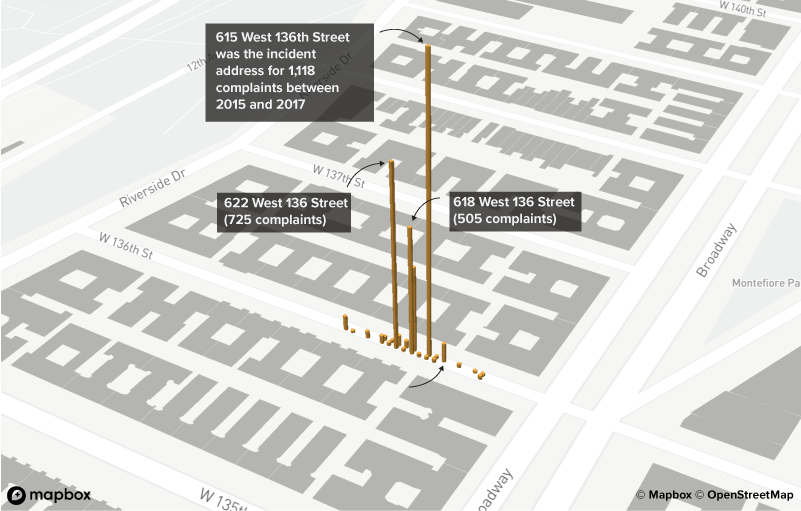 A dozen long-term Dominican residents — the majority of whom have lived on the block for decades — told BuzzFeed News that when the police park their patrol wagon on the block they usually observe the situation or tell residents to break up their gatherings.
One 40-year-old Dominican resident, who didn't want to be identified, said he felt harassed by the police. And Cheo Ledesma, a 43-year-old correctional officer and Hernandez's grandson, said it's a "headache when the cops come and are telling you to tone it down" when you're not doing anything.
"We laugh loud; that's who we are," said Hortensia Mata, 45, who's lived on the block for 30 years. "We have a lot of new people moving here who come with new rules."
BuzzFeed News also talked to eight new residents who'd lived on the block for one to two years. They were divided on whether the block was too loud, and none said they had filed a 311 complaint. While it gets loud on weekends, they said, the majority of these residents were surprised to hear that there were so many complaints.
[...]
What has changed around the block is its demographics. More white residents moved into the block's Census tract, increasing from 2% to 10% between 2000 and 2016, and median home values almost doubled, from $239,540 to $461,200, adjusted for inflation.
Tracts that gentrified have received more complaints per capita than those that didn't, according to BuzzFeed News' analysis of Census and 311 data. (There's no universally accepted definition of gentrification, but BuzzFeed News used a methodology developed by Governing magazine, which in turn is similar to prior academic work. It uses Census data on income, home prices, and education — but not racial or ethnic demographics.)
[...]
We looked at noise complaints about loud music, television sounds, or talking; complaints about blocked driveways; and complaints about illegal conversions of apartments.
The chart below shows the results: the median number of complaints per 1,000 people, and the changes in racial composition, for gentrifying and nongentrifying tracts.
Long-term residents said they rarely, if ever, called to complain — if they had a problem, they'd walk outside and say so.
But one newcomer to the Harlem block said he'd rather call authorities than talk it out with his neighbors.
"There's this tendency [among new residents] of people not addressing problems directly," said Michael Rapoza, 37, a white resident who bought an apartment a little under a year ago. He has called 311 a few times to deal with his downstairs neighbor who was playing loud rap music.
"[My neighbor] blows out your eardrums," he said, adding he could feel the building vibrate sometimes. He also said he didn't feel safe approaching his neighbor to ask for the music to be turned down. "This used to be a bad neighborhood," he said. ([Which is bullshit-JBR] Crime has steadily been decreasing in the local precinct — down by 80% since 1990, mirroring similar changes city-wide.)
Another white male resident who lived nearby and said he preferred to remain anonymous said that he had called 311 on occasion due to firecrackers, which he called "scary and dangerous."
"It just means that people have different approaches to living," he said. Calling 311 was "a way of avoiding conflict. People don't want conflict with their neighbors." [So you call the cops on them???-JBR]
Joscha Legewie, an assistant professor of sociology at Yale University, conducted a 2016 study about neighborhood disputes in New York City. He said not being too familiar with your new surroundings may affect whether you'd resolve conflict in person or through a 311 complaint.
"When you live in a neighborhood where you felt comfortable to knock on your neighbor's door, then you would do that," said Legewie. [Why don't the complainants feel safe? Could race have something to do with it? Hmmmm ...-JBR]
Migdalia Lugo, 44, is a long-term resident of another gentrifying neighborhood — Bushwick, in Brooklyn. She said she would not call 311 complaints on her neighbors and would speak to them instead. On a recent Friday, she was sitting on a stoop outside of her apartment building where she has been living for 15 years.
"As long as you don't bother me, I won't bother you," she said.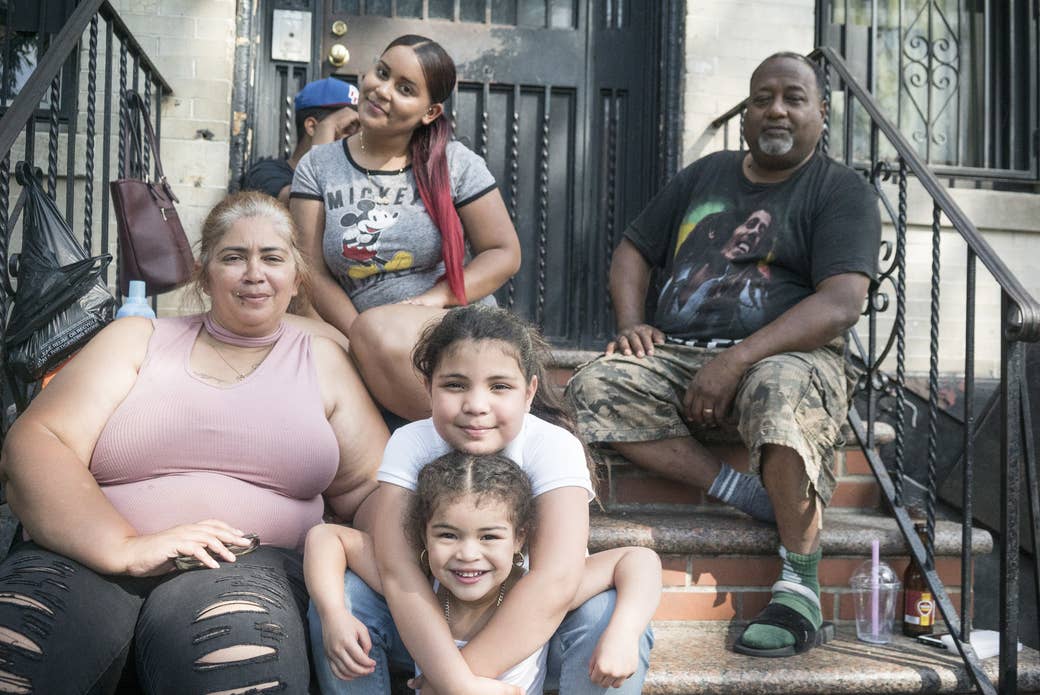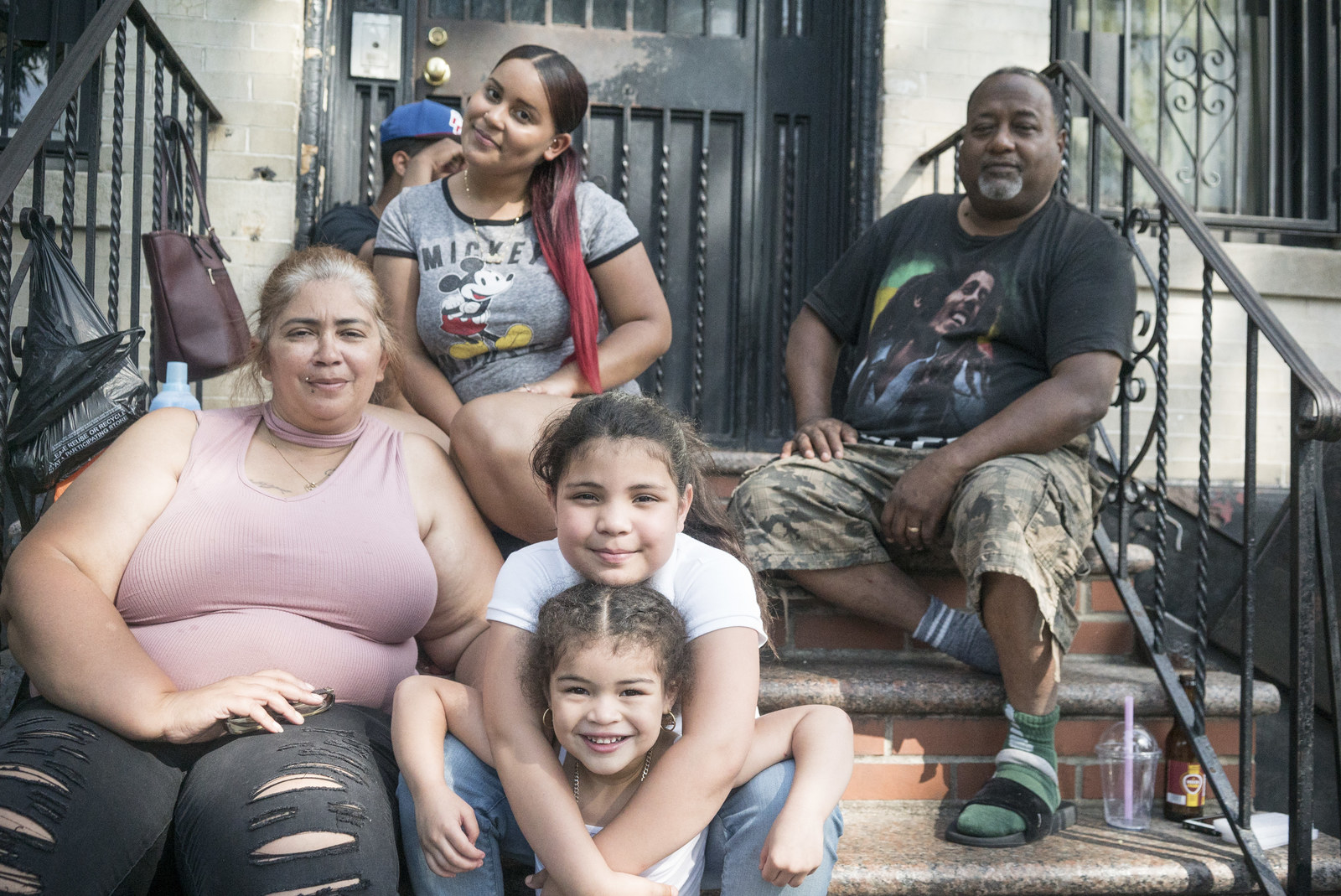 Her neighborhood saw rapid changes between 2000 and 2016. A BuzzFeed News analysis shows the Census tract of her neighborhood went from being 3% white to 20% white between 2000 and 2016. Comparatively, the Latino and Hispanic population shrank from 86% to 72%.
[...]
"Everybody has to live. It's getting harder," she said.
311 hotlines were first introduced in Baltimore, Maryland, in 1996, and have spread throughout the country. The service arrived in New York City in March of 2003 with the first caller filing a complaint about their neighbor having a noisy party in Jackson Heights at 12:01 a.m.
Bill Reda, a spokesperson from the Mayor's Office, said that "311 democratizes access to city government for non-emergency information and issues" and that in 2017, it received "nearly 40 million customer contacts and filed 2.9 million service requests."
Since 311 data does not include socioeconomic or demographic information about the person calling, it's hard to run proper studies to determine to what degree filing complaints is connected to class or race. However, academics note that the service does not get used by all populations equally. Minority populations who experience more aggressive policing — when police "search a higher number of citizens or deploy more force" with specific communities — are less likely to use 311 to file complaints, one study found.
Anthony Posada, a supervising attorney for the Legal Aid Society's Community Justice Unit, has been providing legal advice and representation to predominantly Black and Latino communities across the city for years. He has seen an increase in policing due to 311 complaints in minority neighborhoods where he's seen an uptick of new residents.
"From my understanding, the issue is race and poverty together. It's an issue of both," he said, adding that most members of minority communities he has worked with don't necessarily know their rights and wouldn't even know to call.
The NYPD referred BuzzFeed News to its Freedom of Information Law unit.
Ultimately, a lot of these conflicts may best be resolved in person. Just as the tenured residents of Bushwick said they did.
"In our neighborhood we know each other. These [new] people don't care to say hello," said Juan Rivas, 48, who has lived there since 1996.
"It's not about color; it's about culture."
[Juan is too kind. As if culture and color are ever separate categories ...-JBR]
BuzzFeed News analyzed more than 17 million 311 calls and historical demographic and economic data for every Census tract in New York City.
The goal of the analysis was to understand whether there were correlations between a high rate of 311 complaints about neighbors, such as complaints about noise, loud talking, and blocked driveways, and a change in the racial makeup of a given neighborhood. BuzzFeed News also ran several statistical tests adopted from Governing magazine — which were similar to those in aColumbia University research paper — to see if a Census tract had gentrified between 2000 and 2016. While opinions differ on what constitutes gentrification, this methodology examines population size, median income, median home values, and post-secondary educational attainment. More details about the methodology and the data can be found here.