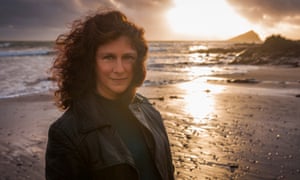 Camille Parmesan: 'We are now sure of what we only suspected years ago. Policy needs to catch up with science.' Photograph: Lloyd Russell/University of Plymouth 
What has made you leave the US? The impact of Trump on climate science has been far greater than what the public believe it has. He has not only slashed funding, but he's gone on the attack in any way he can with his powers as the president. University researchers are buffered from this, but scientists working at government agencies have really felt the blow. They have been muffled and not allowed to speak freely with the press, they have had their reports altered to remove "climate change" from the text, and are being told to leave climate change out of future reports and funding proposals. This degrades the entire climate science community. Scientists are fighting back, but Congress needs to exercise its constitutional powers and keep the executive branch in check. This is not a partisan issue – this is about the future of America.
Are you angry? None of us expected Trump to win. It was a real shock. It was horrifying to have him as a candidate. He was so extreme. Frankly, I am not just angry at the far right, extreme Republican groups but also with [some] liberals who bought the Russian propaganda and who are not taking responsibility. And with people who didn't vote. Good lord. You need to vote! It was a bit like Brexit. Many young people did not vote. I understand they did not want a mainstream candidate but they got Trump and Brexit.
What has changed in climate research in the last few years? We are now seeing the impacts of climate change everywhere. None of us thought that we would find huge changes taking place in the oceans, which have been largely ignored. But the range shifts [migration of plants and animals] there are 10 times that of land. Also, we are seeing diseases coming from ocean systems, like outbreaks of vibrio poisoning [bacteria that occur naturally in warm coastal areas]. We think of these as being tropical but we are now seeing outbreaks in colder waters like the Baltic and Alaska.
When do you expect the major impacts to take place? Things will shift to the extremely negative in the next 50 years. Climate scientists are doing decadal projects and it starts really shifting about 2070-2090. That is in my children's lifetimes. They will have to deal with it. That's what makes me angry. Policymakers are mostly in their 50s and they will be dead by then. The worst impacts will hit their grandchildren. That's what annoys me about young people not voting. They will be the most severely impacted.
Look back on 2017 and forward to 2018? 2017 was quite hopeful. Trump's extremism on climate change has invigorated the populace in both Europe and the US to take action. The world refused to let Trump derail the Paris agreement and said it would move with more vigour. Trump has brought people together. The US withdrawal from Paris energised groups like the mayors who are now saying "we need to get this moving". Both governor Jerry Brown and Arnold Schwarzenegger before him in California have been very committed. The rest of the US will follow. Then you have Michael Bloomberg, Bill Gates and other multi-billionaires saying business will do it on its own. That has been fabulous. Developing countries, too, are rejecting the idea of going dirty and are going green. We're seeing new and wonderful groups being formed at all levels and across all sectors to take action. I think we'll see projects for carbon-cutting and green energy at the local and state levels that will overwhelm anything the White House tries to do. I think the shocks we'll see in 2018 will be positive ones.