Reblogged from
The Guardian
:
Pussy Riot: 'Russian courts are boring … but this week it's been like an American movie'
Three female members of Pussy Riot, a Russian punk band, face prison on hooliganism charges. Here, Pyotr Verzilov, the husband of one of the women, gives his diary account of five extraordinary days in a Moscow court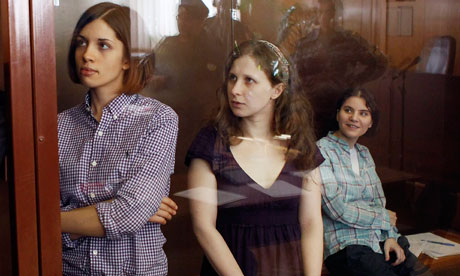 Pussy Riot's Nadezhda Tolokonnikova, Yekaterina Samutsevich and Maria Alyokhina at their trial. Photograph: Yuri Kochetkov/EPA
Monday (Day one)
The first day of the trial. We always knew it was going to be a brutal week in court, but nobody expected it to be quite this brutal. It's mayhem right from the beginning: 500 protesters outside the court and crowds of journalists – perhaps 25 big TV crews from the mainstream international broadcasters: BBC, CNN, two Reuters crews, and ones from Japan and Australia.
Maria, Nadia and Yekaterina (the members of Pussy Riot) are smiling and joking and being very positive and the case is live-streamed for two hours until the prosecutor asks for that to stop. He asks the judge to ban all online communications, including Twitter. Of course, everyone immediately tweets this. There is a tradition of this in Russian courts but the journalists are outraged.
The judge says that it's just "a recommendation", it's not official.
Finally, they start bringing in these amazing witnesses. A woman who looks after the candles in the church testifies and becomes an immediate star on Twitter. She says she saw the girls' "devilish twitching" and "committing impudences".
Court is finally adjourned for the day at 10pm. The judge is pushing this case to the limits in every way.
Tuesday
It takes the girls four hours to get back to the prison, and four hours to get to the court again because of all the procedures involved, so they had very little sleep. The first witness today was the person who cleans the cathedral altar where the girls sang their anti-Putin song. Did he feel morally traumatised (by the girls' actions), the defence lawyer asked? No, he said, he felt a spiritual trauma.
So many of the defence lawyers' questions are simply being disallowed by the judge. "Are you aware the halls inside the church are rented for $10,000 a time?" one of them asks, but the question is simply struck off.
To add to the craziness, there's a dog in the middle of the courtroom, though it was a different one today. They alternate: there are two of them, a huge German shepherd and a rottweiler. They bark madly whenever anyone raises their voice.
Even in murder trials you don't have them, it's only when, say, the boss of organised crime goes on trial. Never in an ordinary case.
The public prosecutor had around 10 witnesses. The first question he asked each of them was, "Are you a deeply religious Orthodox person?" It gave the impression that if you answer no, you'd be taken out and put in a cage.
It really does give the smell of the Spanish Inquisition.
Wednesday
The girls are being very brave and smiling, but it's clear they're not getting enough sleep. The lawyers told the court they're not getting enough food or sleep but the judge dismissed it.
An absolutely crazy witness appeared. He said that the girls had placed themselves in hell. That they'd declared war on God. That "hell is as real as the Moscow subway".
There are constant arguments between the lawyers and the judge. They've been losing their temper with each other and getting very emotional. Usually Russian courts are quite boring, but this week it's been like a scene from an American movie.
I did an interview via satellite on CNN with the Christiane Amanpour programme. After me the next guest was the director of a pro-Putin think-tank who said "These people engage in group sex" and "they had it coming".
Thursday
There was a letter in a newspaper today with support from Jarvis Cocker, the Pet Shop Boys and all these other musicians. I found out that Putin had made a statement at the London Olympics when I was driving with a friend on Thursday night.
A Reuters journalist called me and said Putin had asked for the girls to be treated not too harshly, but that in Israel they wouldn't have got out alive. We were a bit surprised, but it's hard to know what it means.
There's a million different explanations. Was it to look merciful?
Or to send a message to the court to show their independence and act tough? Who knows?
I've been passing on hellos from Nadia to our four-year-old daughter Gera. She's in the countryside staying with relatives, but she knows what's going on.
Friday
It was really the culmination of a crazy week today. There were vicious arguments all day between the lawyers and the judge. Pussy Riot was on a magazine front cover with a headline saying "Putin is Scared of Punk Girls". And the proceedings started with a DVD "confiscated from Verzilov, Pyotr" of the footage from the church, though they took two hours to work out how to even play it.
The judge refused to hear the witnesses for the defence. Navalny [the main opposition leader] was banned from the courtroom by the guards, and then, when he did get in, the judge refused to hear him. There were endless battles and scuffles. And a new dog: today there was an even bigger rottweiler. We're wondering what beast they'll have on Monday. They might as well bring in a horse – nobody would be surprised.
Court adjourned at 10pm on Friday night. The case is moving so fast. They're just rushing it through. A verdict is expected by Wednesday or Thursday. The girls were smiling as usual. There's no possibility to talk to Nadia though. We're always broken up by the guards.
Saturday
My phone connection has been very bad today. I'm missing about 30% of calls. I know that the security services listen to my calls but they don't usually disrupt them. That seems to be changing. I've more briefings with lawyers today and tomorrow. The days are so long in court there's barely been time to sleep and get coffee. Next week is another battle, though.
It's 100% sure the girls will be convicted. The question is only: how long will they get?