Reblogged from
The Guardian
: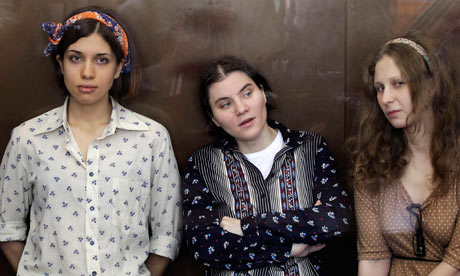 Pussy Riot demonstrators (from left) Nadezhda Tolokonnikova, Yekaterina Samutsevich and Maria Aliokhina during their trial. Photograph: Maxim Shipenkov/EPA
Prosecutors have called for three members of feminist punk band Pussy Riot to be jailed for three years after arguing they had insulted all of Russian Orthodoxy and posed a danger to society.
"They must be isolated from society," federal prosecutor Alexei Nikiforov told the Moscow court. He and lawyers for the victims argued that were they not jailed, they would surely strike again.
Three members of Pussy Riot – Maria Alyokhina, Nadezhda Tolokonnikova and Yekaterina Samutsevich – have been charged with hooliganism motivated by religious hatred after performing a "punk prayer" against President Vladimir Putin in a Moscow cathedral.
In their closing arguments, prosecutors argued that the women were not carrying out a political act, but were acting on deep hatred for Russian Orthodoxy. "They violated the traditions of our country," said Nikiforov. He said the fact that "no politicians" were named in the punk band's song proved it was not a political act. The name and chorus of the song Pussy Riot performed was called "Virgin Mary, Chase Putin Out".
Prosecutors presented the women as dangerous feminists. "All the defendants talked about being feminists and said that is allowed in the Russian Orthodox church," said Yelena Pavlova, a lawyer for several of the nine victims who said they were insulted by Pussy Riot's performance. "This does not correspond with reality. Feminism is a mortal sin," she said.
The Pussy Riot case has reawakened anti-government passions that first emerged when Putin announced he was returning to the presidency last autumn. Opposition activists have called for an impromptu protest to be held on 19 August.
Speaking to court in the afternoon, Pussy Riot's defence lawyers argued that the women's performance was indeed an act of opposition against Putin and was not motivated by religious hatred. "The 'prayer' they sang was a political one," lawyer Violetta Volkova said.
Mark Feygin, another lawyer for the women, issued an impassioned speech warning of the consequences of a conviction, which ended with applause from the journalists witnessing the trial.
"Russia has no rule of law. Russia has no justice system," he said. "Nothing has changed from Soviet times."
He warned that a guilty verdict would "definitely tear up relations between society and government". "Society will never forgive the government" for jailing three innocent women, he said, warning that tensions, including between society and the church, were building to similar levels as before the Bolshevik Revolution of 1917.
He appeared to accept a conviction as a foregone conclusion: "If the order is handed down from above to jail them, then they will be jailed."
A verdict is expect by the end of the week.